It is Shanghai Dragons that confirms Geguri will join the team
The Overwatch League signs its first female player- 19-year-old Kim "Geguri" Se-Yeon is joining the Chinese team Shanghai Dragons.
The immense speculation in recent weeks finally saw a halt this Wednesday when Shanghai Dragons confirmed their first female involvement on Twitter.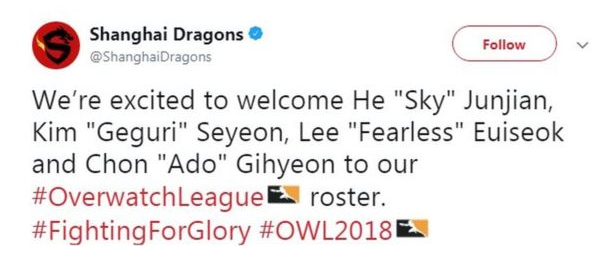 You might remember Geguri as a 17-year-old who was reported to Blizzard Korea. She was accused by two Korean Overwatch pros in 2016- they were convinced that the girl was hacking the game. Later it was known, she was just awesome at Blizzard's team-based hero shooter.
Geguri is much celebrated for her incredible play with the character Zarya, but she has proved her mettle with D.Va and Roadhog as well. Geguri is an experienced player and has earned exhilarating nicknames like "God Zarya" and "World's Best Zarya".
"The Shanghai Dragons look forward to tackling the core problems of the team with the help of these new signings, as well as showcasing more competitiveness in skills and tactics with better performances in the matches ahead," the club said in a recent press release. Geguri's arrival in Shanghai Dragons and Overwatch League is welcoming and is expected to aid the team deliver better performances in the matches ahead.
This post is coming from the desk of SR Boosting- we provide the best Overwatch boosting services and coaching lessons to help struggling players achieve their gaming goals. Explore our services here.
Posted at 1 year ago
---