We believe most of you are aware that Overwatch skill rating system underwent an ultra overhaul during the set off of Season 7. This post highlights all ins and outs about the way the current competitive system works. From different competitive skill rating rank tiers to skill rating decay and Top 500 promotion mechanics, everything you need to know is covered right in this post.
Here's what this read offers-
Overwatch Competitive Ranks

Skill Rating Mechanics & Decay

Top 500 Mechanics

Placement Calibration

Party/Group Restrictions

Competitive Points and Ranked Rewards
What is With Competitive Rank Tiers?
Rank tiers and the entire competitive system of Season 1 and Season 2 differ largely after the overhaul. To start off, let's talk about the new competitive ranking tiers.
Below table unveils the different skill rating tiers in both Season 1 and the current Season 2-
| | | |
| --- | --- | --- |
| Season 2 Rank | Season 2 Skill Rating | Season 1 Skill Rating |
| Bronze | 1 - 1499 | 0 - 29 |
| Silver | 1500 - 1999 | 30-39 |
| Gold | 2000 - 2499 | 40-49 |
| Platinum | 2500 - 2999 | 50-59 |
| Diamond | 3000 - 3499 | 60-69 |
| Master | 3500 - 3999 | 70-79 |
| Grandmaster | 4000 - 5000 | 80-100 |
Interested to know how the new and current rank icons look like at the different tiers? See it yourself–

To give players a better assessment of their personal skill level among the large player base, skill rating scale was changed from 100 to 5000. Rank tiers are introduced to reward players for their competitive play and let them celebrate the feeling of being recognized.
The top 500 system is almost the same, just a few tweaks are incorporated which we will be talking in the latter section of this post.
Gaining And Losing Skill Rating- How it Works?
A number of factors affect how you gain and lose skill rating in the competitive game mode of Overwatch. In the Season 2, Blizzard has focused to aid players attune their rank faster and push for consistent play or practice.
We are mentioning certain factors which impact how much skill rating you can gain or lose during any competitive match. These details are likely to help players develop the understanding how skill rating moves in between games.
Individual Performance – This is no-brainer- the better you perform in-game, the more skill rating you will gain. You can examine this by keeping into account the medals you achieve during a competitive match. Ranging from Gold to Bronze, they signify how better your in-game performance is when compared to your team mates.

Consecutive Wins or Losses - After the changes introduced by Blizzard to the win/loss streak system, this is hardly a factor anymore. We have noticed substantial SR gain only after getting into a win streak of more than 20 games, and sometimes even after 20 wins there is no increase in SR gain.

Fair game? - Is your team considered underdog? You can see this as a perk. Because if it is, you may stand to gain more skill rating when winning, and also lose less when losing the match. And somehow, it opposite for overdogs- they gain less for the wins and lose more for losses.

Skill Rating Decay – Have you noticed that your skill rating slowly creeps downward when you are not playing? This, my friend, is called decay. You will lose 50 skill rating per day after an initial grace period of 7 days. Do note that only Master and Grandmaster ranked players are affected by decay.
Also, if you decay in Top 500, you will drop out of the Top 500 ladder instantly. To make sure decay doesn't affect your game, you are required to play one game per day, or 7 games a week.
That being said, the skill rating system is far from perfect, and it can be exasperating to play competitive when you find yourself playing with horrible teammates or getting into a big losing streak. When this happens, we encourage players to take a break. It is likely to help, but we also offer piloted and group/duo Overwatch boosting services for climbing the skill rating ladder, you can find out more about this over here.
Top 500 Mechanics
We find the current Top 500 system relatively straightforward. You just need to be one of the Top 500 players in your region to achieve this esteemed rank.
Here's more you need to know about Top 500 system in Overwatch-
To qualify, be one of the 500 players with the highest skill rating in your region

Play at least 50 competitive games exclusively in your region

To be eligible for receiving Top 500 rank rewards, you have to to achieve Top 500 once during season

When you don't play at least 7 competitive games a week, decay instantly drops you out of Top 500
With these changes made in the Top 50 system, Blizzard attempted to ensure that players can't reach Top 500 by sheer luck or after an exhilarating streak of winning games. This also intends to discourage players from achieving Top 500 and idling until the end of season.
Placement Calibration
A lot has been discussed, guessed and tested about how the Overwatch rank calibration works after the changes in Season 1. Though, there isn't a certainty about anything, but here's what we know about placements-
It is possible to get to Master or Grandmaster after placements from unranked accounts. Though not widely tested yet, but our team has seen many unranked accounts (meaning not a single competitive match throughout all seasons) placed in Master or Grandmaster.

Quickplay MMR affects your initial calibration for unranked placements. This is largely based on the win rate and certain degree of personal performance. The higher your quickplay MMR, the harder your placement games will be, and the higher rank you will be able to achieve after calibration.

From what we noticed in Season 3, accounts ranked high in Season 2 still placed really high after calibration even with multiple placement losses, while accounts with lower ranks are getting not so satisfying placements even after 10 wins. Somehow, the concept of the rich get richer and poor get poorer seems to work. We can't say if this trend will continue in Season 4. We will update you guys with our findings after we gather information from trusted sources.
Again, our findings are not set in stone; they are based on our immense experience gained whilst helping many players complete their placement calibration over the past 3 seasons. If we get some new information, we'll update this post to keep you informed.
We understand that for most of the players, placements are very important affair. We offer piloted and duo/group Overwatch boosting services to help you secure a good placement for the coming seasons. We offer a 70% guaranteed win rate for this service, know things better here.
Party and Group Restrictions
There isn't much to talk on this, except the fact that Blizzard has made it so players are not able to group without rank restrictions anymore, unlike in Season 1. Grouping restrictions for all the different rank tiers are given below-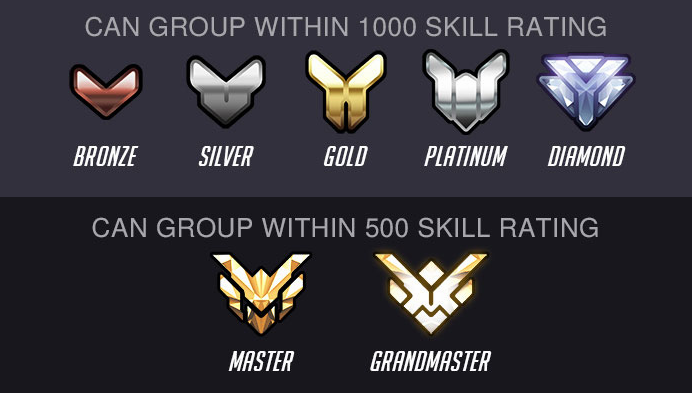 For instance, a Bronze player with a skill rating of 900 can group with a silver player of 1700 rating. On the other hand, a Diamond player with 3100 skill rating cannot group with a Master player of 3700 rating. Also, if you account is still in placements, you will only be able to group with someone below Diamond.
These changes make it hard to group up with friends when your ratings are poles apart, or find a suitable duo partner. Here at SR Boosting, we offer a group/duo service where we pair you up with a professional duo partner; they will play with you, guide you ideally, and also carry you to victory. Find out more about this service here.
Competitive Points and Ranked Rewards
Currently, you can obtain competitive points by winning competitive matches and completing competitive seasons with any rank higher than Bronze. You gain 10 CP per win, and 3 per tie. At the moment, you can use these points to purchase Golden Weapons for any hero in the game. It is expected that Blizzard will be introducing new items and cosmetics as well which you can purchase with competitive points in imminent future.
The competitive point awards for each different rank tier will be something like-

Moreover, you will get the seasonal player icon, and spray for achieving any rank during the season. For Top 500, there is-
- An exclusive Top 500 seasonal player icon
- The default Top 500 player icon
- The Top 500 seasonal animated spray
You will be awarded the rewards for the highest rank you have achieved at the end of every season. This states that if on the off chance you drop from Top 500 to Diamond, you will still get the Top 500 rewards by the end of season.
The journey for your desired ranked rewards can be quite a long and demanding. If you find yourself struggling in realizing your goal, especially toward the end of season, SR boosting will be happy to help with our skill rating boosting services which you can find here.
Posted at 1 year ago
---